Clinical microbiology combines diagnostic microbiology and clinical infectious medicine.
Through innovation and technical progress, a multitude of possibilities for pathogen diagnostics are available today, especially in the areas of serology/antigen diagnostics as well as in molecular biology, but also through special culture and staining methods. The dynamics of innovation in infection diagnostics remain high.
The diagnostic detection of a pathogen (microscopy, culture), its components (antigen, PCR) or a host response to a pathogen (antibodies, IGRA) are not always synonymous with the detection of infection. Rather, the methods used must be assessed in the context of the scientific evidence of the method, other findings and especially in knowledge of the patient's medical history and clinic. A therapy recommendation or a recommendation for further diagnostics can then be made from the synopsis.
Within the framework of clinical microbiology, the Institute of Hygiene and Microbiology supports the Hospital Hygiene and Antimicrobial Stewardship Unit of the University Hospital of Würzburg.
Thus, the IHM offers telephone advice on interpretation of findings and antibiotic therapy on weekdays between 9:00 am and 2:00 PM under 0931-31-46939 selection 2.
After 2:00 PM, enquiries can be directed to the research assistant on duty (via switchboard 201-13).
From the management team of the Hospital Hygiene and Antimicrobial Stewardship Unit, Dr. med. Güzin Surat and Dr. med. Manuel Krone are physically located at the IHM.
Prof. Dr. med. Stefanie Kampmeier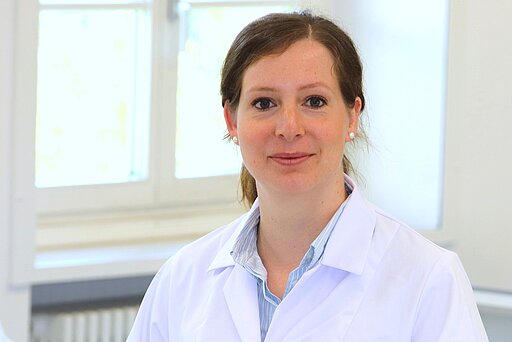 Dr. med. Güzin Surat
Leitung Arbeitsgruppe Antimicrobioal Stewardship
Tel.: +49 931 201-46988
Mail: surat_g(at)ukw.de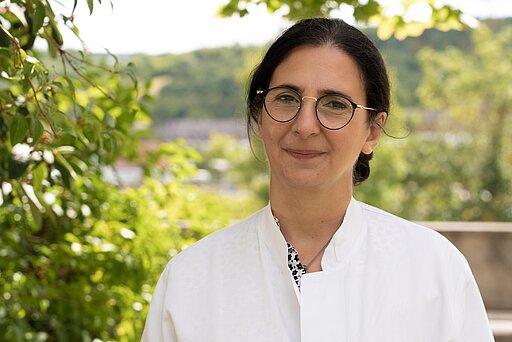 The performance and evaluation of antibiotic sensitivities at the Institute of Hygiene and Microbiology are based on the specifications of the EUCAST and the National Antibiotic Sensitivity Test Committee (NAC) Germany.
For certain pathogens, no EUCAST limits have been defined for some antibiotics because the correlation between in vitro testing and therapeutic efficacy is controversial. In these cases, there is no evidence that therapy of the pathogen with the antibiotic in question is successful. Examples are tetracycline for enterobacteria and β-lactam antibiotics for acinetobacter. In these cases, we recommend preferring a resistance-oriented therapy with other antibiotics.
If an antibiotic does not appear in an antibiogram, this means that:
there is a known intrinsic resistance of the pathogen to the antibiotic.
testing is not recommended because the antibiotic is not suitable for treating the pathogen.
an interpretation of the antibiotic test is not possible for this germ.
the sensitivity of the germ to the antibiotic can be derived from another substance.
For your overview, the following tables contain recommended antibiotics and their dosages (intravenous and oral) according to EUCAST and NAC. The overview contains those dosages on which the interpretation of the pathogen as sensitive, sensitive with increased exposure (increased) or resistant according to the guidelines of EUCAST and NAC is based.
The recommendations of the Antimicrobial Stewardship (AMS) Team take the dosing recommendations of EUCAST into account and, depending on the clinical picture, sometimes go beyond them.
If you have any questions, please contact the AMS team (Intranet UKW) at 201-46988.
For your overview, you will find recommended antibiotics and dosages (intravenous and oral) according to EUCAST and NAC in the following tables:
Antibiotic dosages (PDF) (as of February 2021)
Dichtl, K., Forster, J., Ormanns, S., Horns, H., Suerbaum, S., Seybold, U., & Wagener, J. (2020). Comparison of beta-D-Glucan and Galactomannan in Serum for Detection of Invasive Aspergillosis: Retrospective Analysis with Focus on Early Diagnosis. J Fungi (Basel), 6(4). doi:10.3390/jof6040253
Dichtl, K., Koc, O., Forster, J., Scharf, C., Suerbaum, S., Andrassy, J., . . . Schroeder, I. (2021). An invasive infection caused by the thermophilic mold Talaromyces thermophilus. Infection, 49(6), 1347-1353. doi:10.1007/s15010-021-01648-z
Forster, J., Koc, O., Koeppel, M. B., Hamprecht, A., Kurzai, O., Suerbaum, S., . . . Dichtl, K. (2021). beta-1,3-D-glucan and galactomannan as biomarkers for the detection of invasive Geotrichum and Magnusiomyces infections: a retrospective evaluation. J Clin Microbiol, JCM0160721. doi:10.1128/JCM.01607-21
Forster, J., Piazza, G., Goettler, D., Kemmling, D., Schoen, C., Rose, M., . . . Liese, J. G. (2021). Effect of Prehospital Antibiotic Therapy on Clinical Outcome and Pathogen Detection in Children With Parapneumonic Pleural Effusion/Pleural Empyema. Pediatr Infect Dis J, 40(6), 544-549. doi:10.1097/INF.0000000000003036
Glutsch, V., Gesierich, A., Goebeler, M., Forster, J., & Schilling, B. (2018). Nocardiosis in a patient with anti-PD-1-associated colitis treated with infliximab. Eur J Cancer, 101, 284-286. doi:10.1016/j.ejca.2018.06.014
Schub, T., Forster, J., Suerbaum, S., Wagener, J., & Dichtl, K. (2021). Comparison of a Lateral Flow Assay and a Latex Agglutination Test for the Diagnosis of Cryptococcus Neoformans Infection. Curr Microbiol, 78(11), 3989-3995. doi:10.1007/s00284-021-02664-w
Streck, L. E., Gaal, C., Forster, J., Konrads, C., von Hertzberg-Boelch, S. P., & Rueckl, K. (2022). Defining a Synovial Fluid White Blood Cell Count Threshold to Predict Periprosthetic Infection after Shoulder Arthroplasty. Journal of Clinical Medicine, 11(1), 50.
Wagenhauser, I., Knies, K., Rauschenberger, V., Eisenmann, M., McDonogh, M., Petri, N.,…, Forster (13/20)…, Krone, M. (2021). Clinical performance evaluation of SARS-CoV-2 rapid antigen testing in point of care usage in comparison to RT-qPCR. EBioMedicine, 69, 103455. doi:10.1016/j.ebiom.2021.103455
Forster, J., Dichtl, K., & Wagener, J. (2022). Lower beta-1,3-D-glucan testing cut-offs increase sensitivity for non-albicans Candida species blood stream infections. Mycoses. doi:10.1111/myc.13421
Forster, J., Streng, A., Rudolph, P., Rücker, V., Wallstabe, J., Timme, S., . . . Liese, J. (2022). Feasibility of SARS-CoV-2 Surveillance Testing Among Children and Childcare Workers at German Day Care Centers: A Nonrandomized Controlled Trial. JAMA Netw Open, 5(1), e2142057. doi:10.1001/jamanetworkopen.2021.42057