Daten des Nationalen Referenzzentrums für Meningokokken für das Jahr 2011
Das Nationale Referenzzentrum für Meningokokken ist vom RKI mit der Feintypisierung und der Surveillance von Antibiotikaresistenzen bei Meningokokken beauftragt. Insgesamt wurden im Jahr 2011 470 Proben von 394 Patienten untersucht. Das NRZM konnte Neisseria meningitidis bei 322 Patienten nachweisen, von welchen bei 307 ein Meningokokkennachweis aus primär sterilen Materialien erfolgte (diese Zahl entspricht der Anzahl der invasiven Erkrankungen). Im Vergleich dazu wurden 362 Fälle von invasiver Meningokokkenerkrankung im Jahr 2011 an das RKI gemeldet, Stand 16.1.2012, vgl. SurvStat@RKI). Diese Zahlen verdeutlichen einen Abfall der Inzidenz der invasiven Meningokokkenerkrankung in Deutschland im Jahre 2011 (0,44/100.000, vgl. SurvStat@RKI) gegenüber dem Jahr 2010 (0,47/100.000). Da das NRZM alle Befunde den jeweils zuständigen Gesundheitsämtern mitteilt, kann davon ausgegangen werden, dass ca. 85% der an das RKI gemeldeten Fälle durch das NRZM untersucht wurden (im Vorjahr: 83%). Bei 47 Patienten (von 307) erfolgte der Nachweis ausschließlich mit kulturunabhängigen Methoden.
Der Unterschied im Anteil der Serogruppe C (21,2%) und Serogruppe B Erkrankungen (68,9%) vergrößerte sich gegenüber dem Vorjahr leicht. Der Anteil der Serogruppe Y und W135 Erkrankungen blieb mit 7,0% bzw. 3,0% stabil.
Neben der Serogruppe sind der PorA- und FetA-Typ wichtige Marker der Feintypisierung (vgl. unsere Vorberichte 2010, 2009, 2008, 2007, 2006, 2005 und 2004). Es wurden im Jahr 2011 130 unterschiedliche Serogruppen-PorA-FetA-Kombinationen (= Feintypen) beobachtet. Die häufigsten Feintypen im Jahr 2011 waren B:P1.7-2,4:F1-5 (35 fallbereinigte Isolate, 12.5%), C:P1.5,2:F3-3 (23, 8.2%), B:P1.7,16:F3-3 (15, 5.3%), C:P1.5-1,10-8:F3-6 (12, 4.3%) und Y:P1.5-2,10-1:F4-1 (10, 3.6%).
2) Serogruppenverteilung aufgeschlüsselt nach Bundesländern

4) Häufigkeit der Varianten des äußeren Membranproteins PorA, gekennzeichnet durch die variablen Regionen VR1 und VR2
7) Antibiotikaresistenzen von Vitalstämmen (nach Kriterien von EUCAST)
8) Geografische Verteilungen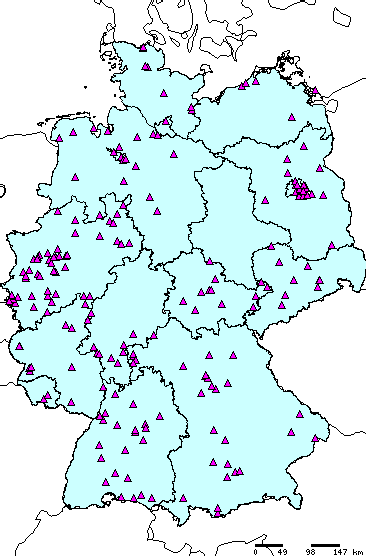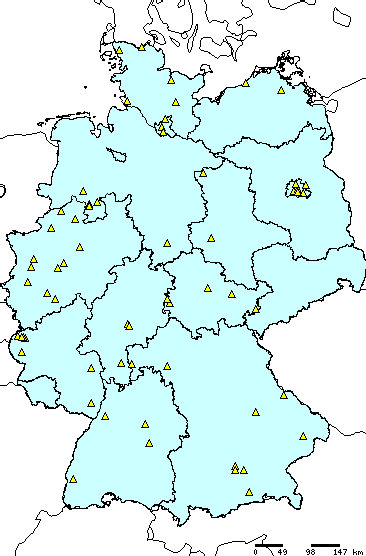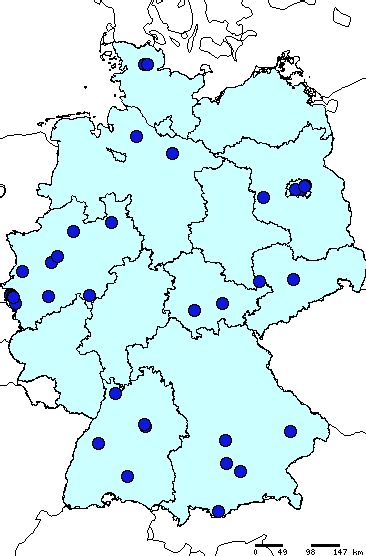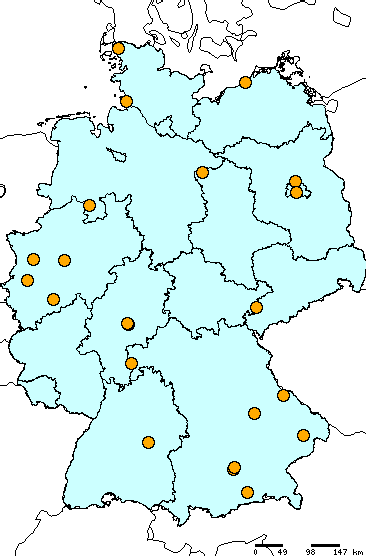 Anmerkung zu den geografischen Verteilungen: Das Verteilungsverhalten der Serogruppe B und C Fälle ist ähnlich; Die Häufung des Feintyps B:P1.7-2,4:F1-5 im westlichen NRW hat deutlich abgenommen. Der Feintyp C:P1.5,2:F3-3 zeigt ein sporadisches Verteilungsmuster. Alle Karten wurden mithilfe des Geografischen Informationssystems EpiScanGIS erstellt.
9) Publikationen des NRZM
Originalpublikationen:
Claus, Heike, Jördens, M. S., Kriz, P., Musilek, M., Jarva, H., Pawlik, M.-C., Meri, S., Vogel, Ulrich. (2012) 'Capsule null locus meningococci: Typing of antigens used in an investigational multicomponent meningococcus serogroup B vaccine', Vaccine, 30 (2), pp. 155-160.
Meyer, S., Elias, J., Höhle, M. 'A Space–Time Conditional Intensity Model for Invasive Meningococcal Disease Occurrence', Biometrics, epub before print

Zlamy, M., Elias, J., Vogel, U., Frosch, M., Jeller, V., Cortina, G., Jungraithmayr, T., Prelog, M. (2011) 'Immunogenicity of conjugate Meningococcus C vaccine in pediatric solid organ transplant recipients', Vaccine, 29 (37), pp. 6163-6166.
Zlamy, M., Hofer, J., Elias, J., Vogel, U., Frosch, M., Jungraithmayr, T., Zimmerhackl, L. B., Prelog, M. (2011) 'Immunogenicity of meningococcus C vaccination in a patient with atypical hemolytic uremic syndrome (aHUS) on eculizumab therapy', Pediatric Transplantation, epub before print
Übersichtsarbeiten und Buchkapitel:
Elias J, Frosch M, Vogel U. Neisseria. In: Versalovic J, Carroll KC, Funke G, Jorgensen JH, Landry ML, Warnock DW, editors. Manual of Clinical Microbiology. Washington, DC: ASM Press; 2011. p. 559–73.
Lâm, T. T., Claus, H, Elias, J., Hellenbrand, W., Imöhl, M., Prelog, M., Sing, A., van der Linden, M., Vogel, U. (2011) 'Infections with Pneumococci, Menigococci, H. influenzae and Diphtheria in Germany: the RKI Reference Network for Invasive Bacterial Infections (IBI) at the 5th Würzburg Workshop on Epidemiology, Prevention and Therapy for Invasive Meningococcal Diseases 2010 (Meeting Report).', Gesundheitswesen (Bundesverband der Ärzte des Öffentlichen Gesundheitsdienstes), epub before print
Vogel, U.. (2011) 'European efforts to harmonize typing of meningococci', International Journal of Medical Microbiology, 301 (8), pp. 659-662.
Vogel, U., Claus, H. (2011) 'Vaccine development against Neisseria meningitidis', Microbial Biotechnology, 4 (1), pp. 20-31.
Allgemeiner Hinweis: Die Daten des NRZM werden im Auftrag des RKI ermittelt. Eine wissenschaftliche Verwertung der Daten durch Dritte ist ohne Genehmigung des NRZM und des RKI nicht gestattet. Eine kommerzielle Verwendung der Daten z.B. für Werbezwecke ist untersagt. Eine Reproduktion der grafischen oder tabellarischen Darstellung auch zum Zwecke von Vorträgen ist nicht gestattet.
Version 0.3 © NRZM 2012