Daten des Nationalen Referenzzentrums für Meningokokken für das Jahr 2008
Das Nationale Referenzzentrum für Meningokokken ist vom RKI mit der Feintypisierung und der Surveillance von Antibiotikaresistenzen bei Meningokokken beauftragt. Insgesamt wurden im Jahr 2008 574 Proben von 474 Patienten untersucht. Das NRZM konnte Neisseria meningitidis bei 412 Patienten nachweisen, von welchen bei 392 ein Meningokokkennachweis aus primär sterilen Materialien erfolgte (diese Zahl entspricht der Anzahl der invasiven Erkrankungen). Im Vergleich dazu wurden 453 Fälle von invasiver Meningokokkenerkrankung im Jahr 2008 an das RKI gemeldet, Stand 18.3.2009, vgl. SurvStat@RKI). Diese Zahlen verdeutlichen einen leichten Anstieg der Inzidenz der invasiven Meningokokkenerkrankung in Deutschland im Jahre 2008 gegenüber dem Jahr 2007 (ca. 0,55/100.000 laut RKI-Daten). Da das NRZM alle Befunde den jeweils zuständigen Gesundheitsämtern mitteilt, kann davon ausgegangen werden, dass 2008 ca. 87% der an das RKI gemeldeten Fälle durch das NRZM untersucht werden (im Vorjahr: 80%). Bei 55 Patienten erfolgte der Nachweis ausschließlich mit kulturunabhängigen Methoden.
Der Anteil der Serogruppe C Erkrankungen fiel weiter auf 21,9%, während der Anteil der Serogruppe B Erkrankungen mit 70,4% leicht anstieg. Meningokokken der Serogruppe Y und W-135 verursachten im Jahr 2008 5,9% bzw. 1,8% aller invasiven Erkrankungen.
Neben der Serogruppe sind der PorA- und FetA-Typ wichtige Marker der Feintypisierung (vgl. a. unsere Vorberichte 2007, 2006, 2005 und 2004). Es wurden im Jahr 2008 156 unterschiedliche Serogruppen-PorA-FetA-Kombinationen (= Feintypen) beobachtet. Die häufigsten Feintypen waren B:P1.7-2,4:F1-5 (13,6% aller invasiven Isolate), C:P1.5,2:F3-3 (10,1%), B:P1.7,16:F3-3 (5,6%), Y:P1.5-2,10-1:F4-1 (3,5%) und B:P1.18-1,3:F1-5 (3,2%) (vgl. unten).
Die Früherkennung von feintypspezifischen Häufungen und die Auswertung von geografischen Verteilungen wird seit Sommer 2006 durch die Implementierung des öffentlich zugänglichen Geografischen Informationssystems EpiScanGIS und die Anwendung von SaTScan erleichtert (vgl. Elias et al. EID 2006, Reinhardt et al. IJHG 2008).
2) Serogruppenverteilung aufgeschlüsselt nach Bundesländern

3) Serogruppenverteilung aufgeschlüsselt nach Altersgruppen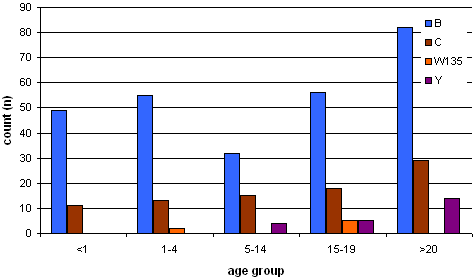 4) Häufigkeit der Varianten des äußeren Membranproteins PorA, gekennzeichnet durch die variablen Regionen VR1 und VR2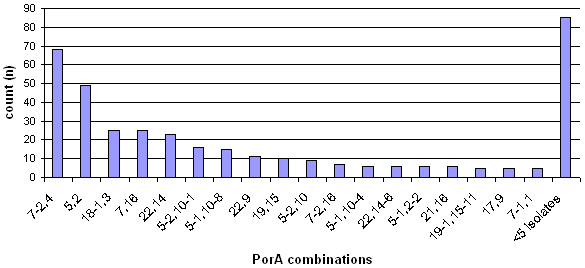 5) Häufigkeit der Varianten des äußeren Membranproteins FetA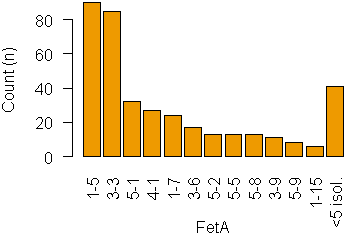 6) Häufigkeit der Feintypen aufgeschlüsselt nach Altersgruppen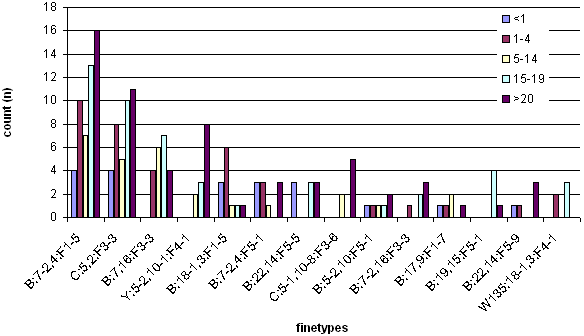 7) Antibiotikaresistenzen von Vitalstämmen des Jahres 2008 (nach Kriterien des CLSI)

8) Geografische Verteilungen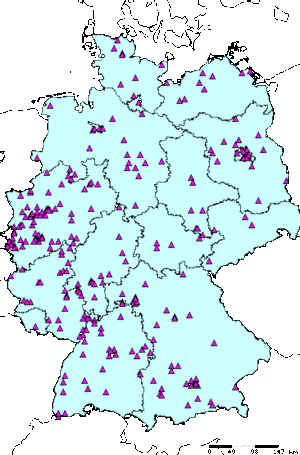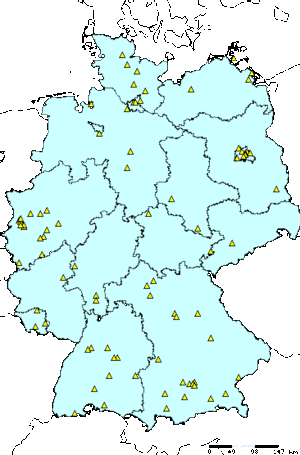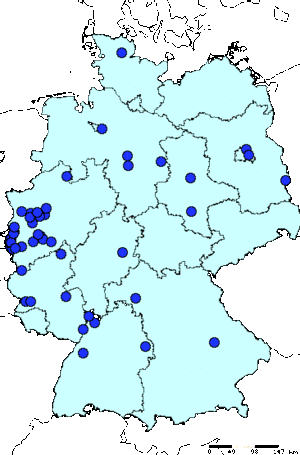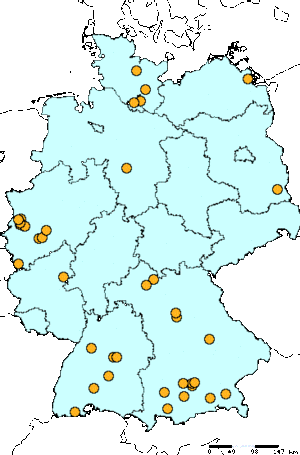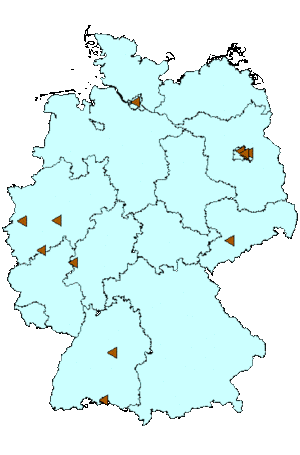 Anmerkung zu den geografischen Verteilungen: Das Verteilungsverhalten der Serogruppe B und C Fälle ist vergleichbar. Die Häufung des Feintyps B:P1.7-2,4:F1-5 im westlichen NRW ist im Jahr 2008 erneut deutlich bemerkbar. Es wurde eine gewisse Häufung von Fällen mit dem Feintyp C:P1.5,2:F3-3 im Süden Bayerns beobachtet, die sich in 2009 fortsetzt. Der Anteil der ET-15 Meningokokken blieb mit 12 Fällen unverändert gegenüber 2007. Die Zahl der dargestellten ET-15 Fälle in Deutschland ist jedoch wahrscheinlich unterschätzt, da nur kulturell positive Meningokokken auf das Vorliegen des ET-15 Klons untersucht werden können.
Die mit Stern (*) markierten Karten wurden mithilfe des Geografischen Informationssystems EpiScanGIS erstellt.
9) Publikationen des NRZM
Originalpublikationen:
Lewis, L.A., Ram, S., Prasad, A., Gulati, S., Getzlaff, S., Blom, A.M., Vogel, U., Rice, P.A. 2008. Defining targets for complement components C4b and C3b on the pathogenic neisseriae. Infect Immun. 76(1):339-50.
Schoen C, Blom J, Claus H, Schramm-Glück A, Brandt P, Müller T, Goesmann A, Joseph B, Konietzny S, Kurzai O, Schmitt C, Friedrich T, Linke B, Vogel U, Frosch M. 2008. Whole-genome comparison of disease and carriage strains provides insights into virulence evolution in Neisseria meningitidis. Proc Natl Acad Sci U S A. 105(9):3473-8.
Reinhardt, M., Elias, J., Albert, J., Frosch, M., Harmsen, D., and Vogel, U. 2008. EpiScanGIS: an online geographic surveillance system for meningococcal disease. Int J Health Geogr. 7:33.
Übersichtsarbeiten:
Vogel, U., Elias, J., and Frosch, M. 2008. Kapitel 4.1.7 Neisseria meningitidis. In: GERMAP 2008 Antibiotika-Resistenz und –Verbrauch. Hrsg.: Bundesamt für Verbraucherschutz und Lebensmittelsicherheit, Paul-Ehrlich-Gesellschaft für Chemotherapie e.V., Infektiologie Freiburg. Antiinfectives Intelligence Gesellschaft für klinisch-mikrobiologische Forschung und Kommunikation mbH, Rheinberg, p. 60-61.
Allgemeiner Hinweis: Die Daten des NRZM werden im Auftrag des RKI ermittelt. Eine wissenschaftliche Verwertung der Daten durch Dritte ist ohne Genehmigung des NRZM und des RKI nicht gestattet. Eine kommerzielle Verwendung der Daten z.B. für Werbezwecke ist untersagt. Eine Reproduktion der grafischen oder tabellarischen Darstellung auch zum Zwecke von Vorträgen ist nicht gestattet.
Version 1.7 © NRZM 2009