Data of the German Reference Centre for Meningococci for the Year 2008
The German Reference Centre for Meningococci (NRZM) has been assigned by the SurvStat@RKI). The figures indicate a slight re-increase in incidence in 2008 (ca. 0.55/100,000/annum according to RKI data). Since the NRZM relays all positive reports to the appropriate health authorities, 87% coverage by the NRZM can be assumed (80% in the previous year). In 55 cases confirmation of invasive disease was done with non-cultural methods only.
The proportion of serogroup C disease decreased further to 21.9%, in contrast to serogroup B disease, which rose slightly to 70.4%. Meningococci of serogroup Y and W-135 caused 5.9 and 1.8% of all invasive cases, respectively.
Apart from the serogroup, PorA and FetA are important targets for fine typing (cf. our reports from 2007 and 2006). 156 different fine types (= unique serogroup-PorA-FetA combinations) were observed in 2008. The most common fine types in 2008 were B:P1.7-2,4:F1-5 (13,6% of all invasive isolates), C:P1.5,2:F3-3 (10,1%), B:P1.7,16:F3-3 (5,6%), Y:P1.5-2,10-1:F4-1 (3,5%) and B:P1.18-1,3:F1-5 (3,2%).
Early detection of fine type-specific Clusters and assessment of geographic distribution of cases has been greatly facilitated by implementation of the public geographic information system EpiScanGIS and use of SaTScan erleichtert (vgl. Elias et al. EID 2006, Reinhardt et al. IJHG 2008).
2) Distribution of serogroups according to federal states

3) Distribution of serogroups according to age groups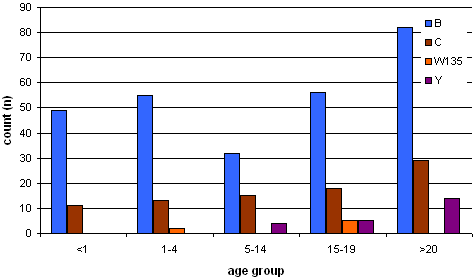 4) Frequency of outer membrane protein PorA (distinguished by variable regions VR1 and VR2)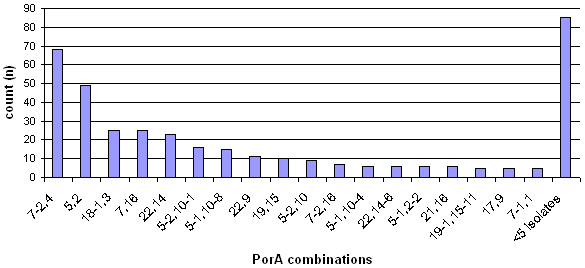 5) Frequency of fine types according to age groups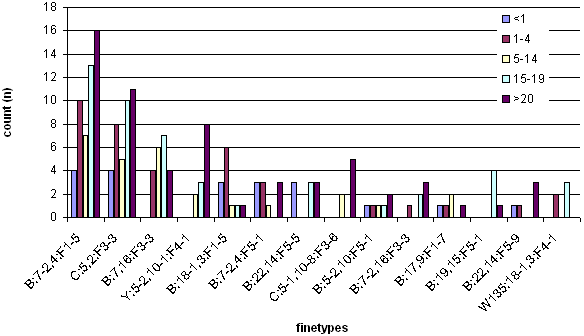 6) Antibiotic resistance (according to criteria by CLSI)

7) Geographic distribution of types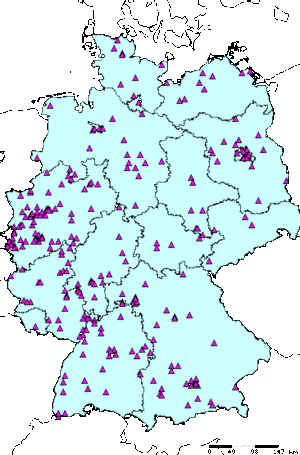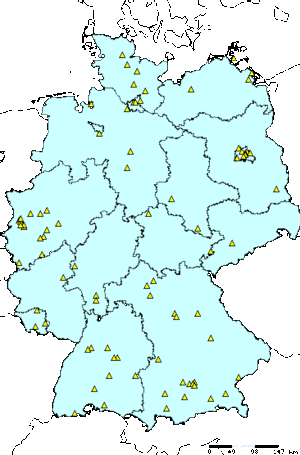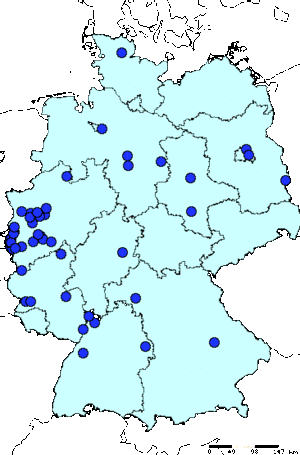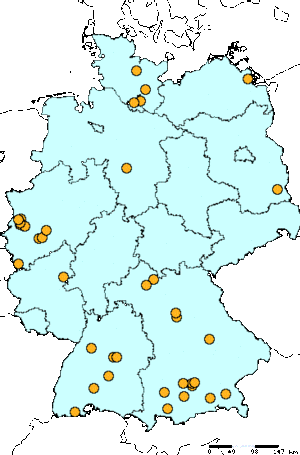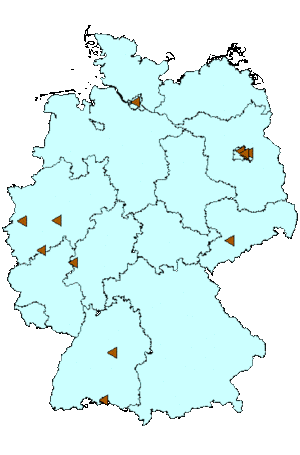 Remarks: Serogroup B and C distributions are similar. Clustering of B:P1.7-2,4:F1-5 in western NRW is again increasing in 2008. A certain accumulation of C:P1.5,2:F3-3 in southern Bavaria can be appreciated, continuing in early 2009. The proportion of ET-15 remained unchanged in 2008 compared to 2007 (12 cases). Nevertheless, ET-15 cases are probably underestimated, since only viable strains can be tested. Maps marked with an asterisk (*) were generated using EpiScanGIS.
8) Lethality of serogroup B and C disease

Lethality data as reported by sending laboratories. Cases were not followed up by NRZM and false-negative cases are likely. Lethality was higher in serogroup C than serogroup B (6.9% vs. 10.0%), yet the difference was not significant (p=0.35, Fisher´s Exact Test).
9) Publications by the NRZM
Original Articles:
Lewis, L.A., Ram, S., Prasad, A., Gulati, S., Getzlaff, S., Blom, A.M., Vogel, U., Rice, P.A. 2008. Defining targets for complement components C4b and C3b on the pathogenic neisseriae. Infect Immun. 76(1):339-50.
Schoen C, Blom J, Claus H, Schramm-Glück A, Brandt P, Müller T, Goesmann A, Joseph B, Konietzny S, Kurzai O, Schmitt C, Friedrich T, Linke B, Vogel U, Frosch M. 2008. Whole-genome comparison of disease and carriage strains provides insights into virulence evolution in Neisseria meningitidis. Proc Natl Acad Sci U S A. 105(9):3473-8.
Reinhardt, M., Elias, J., Albert, J., Frosch, M., Harmsen, D., and Vogel, U. 2008. EpiScanGIS: an online geographic surveillance system for meningococcal disease. Int J Health Geogr. 7:33.
Review Articles:
Vogel, U., Elias, J., and Frosch, M. 2008. Kapitel 4.1.7 Neisseria meningitidis. In: GERMAP 2008 Antibiotika-Resistenz und –Verbrauch. Hrsg.: Bundesamt für Verbraucherschutz und Lebensmittelsicherheit, Paul-Ehrlich-Gesellschaft für Chemotherapie e.V., Infektiologie Freiburg. Antiinfectives Intelligence Gesellschaft für klinisch-mikrobiologische Forschung und Kommunikation mbH, Rheinberg, p. 60-61.
Disclaimer: the above data were generated with federal funds (RKI). Scientific use is prohibited without prior written consent by NRZM or RKI. Commercial use is strictly prohibited. Inclusion of figures or tables in talks or oral presentations is not allowed.
Version 1.7 © NRZM 2009